OUR COMPETION TEAM - WHERE WINNING IS FUN. . .

<-- PHOTO AT LEFT:


2022 Diamond award winners

and first place overall

in the entire competition

in their age division!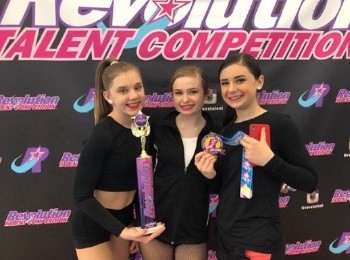 The competition program at The Ballet Studio, TEAM TBS, has been developed for our dancers who want to take their dance skills to the next level, while still having the time available for other school and extracurricular activities. The average amount of hours that our competition dancers dance is 3 hours per week. This places us in the INTERMEDIATE level at the dance competitions. We have won numerous high golds, platinums, high platinums, special judges awards, and Nationals at this level! So many of our dancers are involved in other activities ( sports, school plays, singing, karate, playing instruments, horse back riding, ice skating, etc.) and we want them to be able to have the time to enjoy these activities AND dancing at our studio!

Our program consists of 4 levels...

Minis - (grades k to 2nd) - Level pre-competition
Peewees - (grades 2nd to 4th) - 1

Juniors - (grades 5th to 8th)- Level 1.5

Seniors - (grades 9th to 12th)- Level 2
Juniors/Seniors - (grades 7 to 12th) - Level 3

All dancers participating on our team will attend the once a week Wednesday evening competition class as well as a weekly combination class.

TEAM TBS dancers who would like to advance their dance skills and strengthen their technique, in addition to attending the Wednesday evening class, may dance in our program on Saturdays, level 3 TEAM TBS. This level consists of a large group (approximately 8-10 dancers) who dance for one hour, and a small group (approximately 5-6 dancers) who dance in both the large and small group, a total of 2 additional hours. The requirement for the Saturday class is junior and senior dancers with two full years on TEAM TBS or who have competed at another dance studio for at least two years. For more information pertaining to this program, please contact us at info@tbsdnace.com.

SOLOS and DUETS

Students in any level of the competition program may perform a solo and/or duet dance in one, two, or all three of the competitions. Please contact our TEAM TBS Director, Miss Sherri DiStefano at comp4tbs@gmail.com, for more information. These dances will be taught by Miss Cara, TEAM TBS (Assistant Director), Miss Sherri, Miss Courtney, Miss Amanda, Miss Daria, Miss Rachel, and Miss Emilia. The cost of each solo session is $50.00 per dancer and $40.00 per dancer for each duet session. Each dancer(s) will have a minimum of 4 sessions with their instructor. Additional practioces may be scheduled throughout the dance season. We will contact our dancers, after the recital in June, to discuss scheduling and dance styles!

NATIONAL INFORMATION

The Ballet Studio, if invited, may enter The National Competition for one of the three competitions in which we have competed. A decision to go to Nationals will be made by the competition staff, parents, and dancers, after the regional competitions are completed. Participation in the National competition is not mandatory, but preferred. Some dancers, due to prior commitments, may be unable to attend.

The only two additional requirements for TEAM TBS, above and beyond weekly scheduled classes, are the following...

Guest Teacher Workshop(s)- Our MINI, PEE WEE, JUNIOR, and SENIOR dancers are asked to attend either of the two dance intensives (please see calendar on the competition updates page). The total cost is $80.00/per each four hour workshop. Dancers who would like to attend both intensives may attend the second for half the cost, which is $40. The intensives are important for our competition dancers, helping to strengthen their technique, along with attending regularly scheduled weekly classes. The fees for the intensives are due by the last Wednesday competion class in September and are non-refundable. The schedule and registration forms for the intensives will be given out the first class in September.

Summer Dance Competition Camp - Our team members attend the summer dance workshop held at the studio, the end of July!!. Click here to View our Schedule Page for more information.

TEAM TBS COMPETITION CALENDAR 2023 - 2024

September 5 - Welcome back TEAM TBS!! Parent meetings

September 28 - All Intensive Fees due

October 1 - Fall Intensive 1 - 12:00-3:00

October 15 - Fall Intensive 2 - 12:00-3:00 *Seniors Only
October 29 - Bordentown Halloween Parade - Time TBD
November 12 - Fall Intensive 3 - 12:00-3:00
November 15 - Competition Fee payment 1 - 50% due

January 17 - Competition Fee Payment 2 - 50% balance due

January 17 - Exteneded class times - See Handout

February 21 - Extended class time - See Handout
February 24 - Solos/Duets run through 1:15-2:45

March 6 - Extended class time - Carslake Community Center - Dress Rehearsal - Time TBD
March 9 - Solos/Duets run through 1:15-2:45
March 20 - Extended class time - See Handout
March 22-24 - Competition #1 - Breakout Competition - Notre Dame - Optional - Solos/Duets Only
April 12-14 - Competition #2 - VIP Dance Competition - Millstone - All Teams

April 26-28 - Competition #3 - KAR Competition - Trenton - All Teams
May 3-5 - Competition #4 - Onstage America Competition - East Brunswick - All Teams
Competition #4 -
COMPETITION CAMP FOR SUMMER 2024...

July 29th to August 2nd - PW/JR - (5:00 - 8:00 ) SR - (6:00 - 9:00)